"One of Colorado brewing's greatest marketing success stories" — Eric Gorski, The Denver Post, regarding Rocky Mountain Oyster Stout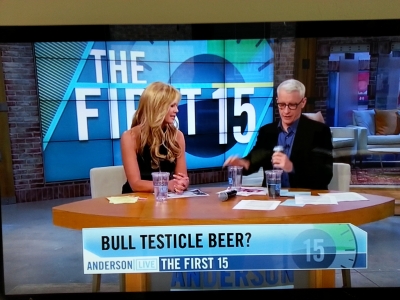 Few things make a point more palatable and compelling than humor and satire. The two are also hard to beat for attracting and keeping customers, elevating your image and profile, and increasing sales.
One of Marty's key tasks when he was brought on at Wynkoop Brewing was to help the venerable-but-static brewpub regain the trailblazing, entertaining stature it had during John Hickenlooper's era there.  Along with helping Wynkoop revamp its beer list and launch successful microcanning and self distribution campaigns, Jones used his now world-famous Rocky Mountain Oyster Stout invention as a key tool to fix the brewpub's image problem.
The April Fool's Day video he created for the fictitious beer was the most viewed and talked-about spoof beer  video in the nation. How do you top that? Make the beer. Its debut at the Great American Beer Festival allowed Wynkoop to capture a load of GABF attention (a very tough thing to do) and US and international media coverage. The TV coverage included Anderson Cooper and Kathie Lee Gifford and Hoda Kotb (The Today Show) drinking and discussing the beer on their respective shows.
The buzz from those bull balls also made for great business. RMOS created some of the longest GABF beer lines at the fest, far beyond anything the Wynkoop had experienced in its 20+years.  The canned version of the beer (in twopacks) quickly became the all-time, fastest-selling beer in 'koop history. Despite it selling for 300% more than the brewery's other canned beers. It also smashed any perceptions that Wynkoop was a stodgy, no-longer-innovative pioneer that had lost its mojo and sense of fun. While proving that having some balls and an irreverent sense of humor can make for nutty sales.